Spare Parts for PRINT GOCCO B6
S-103 PRINT GOCO B6 and S-479 B6 Printer Only
In general repairs to PRINT GOCCO B6 model does not require a service technician.
Models
PRINT GOCCO B6 was supplied in 3 colours:
Series 1 - Orange
Series 2 - Yellow
Series 3 - Blue
Parts Available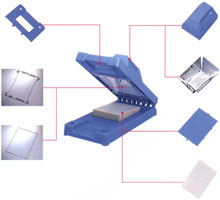 Product Code: S-290
PG-5 Stage Glass

Product Code: S-185
B6 Lamp Housing

Product Code: S-184
B6 Pad Table - Discontinued replaced by S-5035 model

Product Code: S-183
B6 Pad Table - No Pad (plastic base only)
Machine Servicing

When you service your machine with NEHOC you receive a full warranty on all parts installed and a set labour cost for any service/ repair.
More details click here . .

Page Information:
< Previous: Spare Parts Homepage
> Next: Systems Homepage
Products: S-183 B6 Pad Table- no pad, S-184 B6 Pad Table (see S-5035), S-185 B6 Lamp Housing and S-290 B6 Stage Glass
Manufacture notice: All items
Last modified: 30 October, 2009