NEHOC Australia are an Australian owned and operated family business specialising in RISO PRINT GOCCO and RISO Screen Printing Systems.
Based in Sydney's north, NEHOC have established distribution outlets all over Australia, and also support remote locations through a direct ordering service.
Our expertise in PRINT GOCCO & RISO Screen Printing systems is far above any other company in the world, with over 20 years hands on experience in a wide variety of printing applications.
We pride ourselves in supporting ALL customers from small hobbyists and novice printers through to large Government organisations. Here is but just a few of the customers NEHOC service:
Government Organisations - Parliament House (Canberra), Department of Defence (Canberra), Royal Australian Air Force (Tindal, Williamstown)

Professional Printers - Tassie Tees, Tasmanian Clothing Company, KACE Sports, Cowra Trophy Factory - city and country businesses located all over Australia!

Aboriginal Corporations - Boree, Cootamundra and District & Narungga to name a few . . .

T.A.F.E. Colleges - East Sydney, Brookvale, Bradfield College, Nowra, Bankstown, Campbelltown, plus many, many more . .

High Schools - Jame Rouse High, Tangara School for Girls, Queenwood, Barrenjoey, PLC (Sydney), plus hundreds more . .
Founded in 1969, incorporated in 1970, NEHOC Australia was founded by Mr Stan Cohen for the importation and distribution of RISO Kagaku Corp. of Japan duplicating stencils and inks.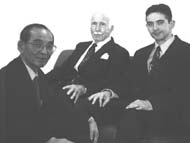 Left to Right - Mr Noboru Hayama-san (President, RISO Kagaku Corp.), Mr Stan Cohen & Mr Simon Cohen (Directors, NEHOC Australia)
NEHOC Australia developed a stronghold in this field through numerous government contracts through out Australia, and also the agency for VistaFax Thermal Copiers - primarily used for the production of duplicating stencils and OHP film (Over Head Projections).
With the introduction of photocopiers, the stencil market declined and NEHOC expanded additional products and agencies (Mawarex labelling systems, Tenza tapes, Folex OHP films and labels) along with the RISO PRINT GOCCO and RISO Screen Printing systems.
RISO Kagaku Corp. today manufacture and supply PRINT GOCCO & RISO Screen Printing systems for the Japanese domestic market only. It is NEHOC's close association with RISO - now over 20 years - which sees NEHOC aligned with RISO's domestic supply for PRINT GOCCO, hence we have the LATEST systems, products and accessories.
Computers have been a great addition to the RISO system, for the production of artwork and also as a printing accessory. The screen printing systems have greatly benefited from the computer as a source of artwork as multicoloured separations are now just a click away - eliminating time consuming hand separations.
Computers however have not been able to match the PRINT GOCCO system for quality, colour range and low cost of print above 20 cards - this is where the 'GOCCO' is still advantageous and why businesses continue to use the 'GOCCO' for printing of wedding & business stationery, manufactured products and much more.
Screen printing is the major product range sold and supported by NEHOC, only just overtaking the PRINT GOCCO systems in the last financial year (after 15 years), and sees the screen printing products developing faster as the market understands the simplicity of use and the professional result available.
With such a long history with the products, NEHOC had built a great wealth of information and library of fact sheets, etc. How better could we give this information to the world than a web site?
Our Internet web site was established in 1997 with the goal of creating THE leading on-line resource centre for PRINT GOCCO & RISO Screen Printing systems - we have already achieved this.
The site was created to be MORE than a listing of products, in fact products make up under 20% of total web space, as Training and Application information is more vital to the continuing understanding and use of the system. An Art Gallery of print samples highlights how the RISO system can be used - many of the prints displayed push the limits of what we thought could be done!
Customer Support is available from all areas of the site through the FEEDBACK section. Customers can receive information on systems, applications or assistance with a printing job.
Ongoing support is also available FREE to registered members through the GOCCOclub.
View website Terms of Use - click here . .
Throughout NEHOC's association with RISO, and other manufacturers, we have always put the customers requirements first - if we can't print it, we'll find the ink and learn how!
Tactile Printing for the Blind
An international breakthrough was the development in 1990 of the Tactile Printing System for blind children. In short, Dr Don Parks developed a computer program linked with a picture on a touch sensitive board, that when pressed would 'talk' to the child helping associate feeling words and sounds.
Most picture boards were printed in the USA and contained American themes i.e. sport, geography, history, etc. The RISO system was used to print specialised, short run picture boards such as sport AFL & Soccer, Geography maps of NSW and Australia, etc.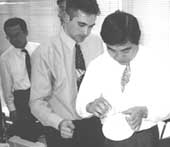 Mr Simon Cohen demonstrating the ceramic process to RISO's R&D managers in Tokyo, Japan.
No other printing system in the world could match the RISO for low cost of print & versatility of designs.
Ceramic Transfer Printing
The simple to use, low cost of the RISO scree printing systems enables a unique Ceramic Transfer printing Ink to be screened through the master and onto Transfer paper - then applied to the design.
Again it is the simplicity in making a screen, and the low cost of production, that enables a complete novice to begin printing ceramics immediately.
Postal Address:

PO Box 175

NARRABEEN NSW 2101

AUSTRALIA
Street Address:

20 Sunnyridge Place

BAYVIEW NSW 2104

AUSTRALIA

Phone

[02] 9979 9700

International: +61 2 9979 9700
Fax

[02] 9979 9201

International: +61 2 9979 9201
E-mail

Webmaster: webmaster@nehoc.com.au

Registered Business Numbers:

Australian Company Number (ACN): 000 845 965

Australian Business Number (ABN): 31 000 845 965

Registered Business Address:

Edmindson & Co. Chartered Accountants

Suite 209 Marvic House

BROOKVALE NSW 2100

Australia