---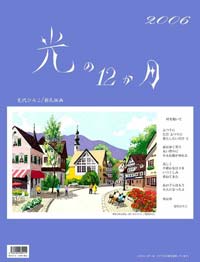 Hiroko's 2006 calendar is now available through her Japanese web site compexart.com.
These 6 magnificent art pieces are reproduced using the worlds latest fine art printing process at the prestigeous Onoue Printing Company in Japan.
Order now direct through Hiroko-san - click here . .
E-mail Hiroko for more details - click here . .
About Onoue Printing Company

During their recent trip both Stan & Simon Cohen visited Onoue Printing Company in Nagano, Japan to view the very latest in off set printing technology.
Pictured from left: Hiroko Mishiro, Takaomi Onoue [Managing Director Onour Printing Co., Stan Cohen, Simon Cohen & Yoshio Tsuji-san.
Hiroko-san chose Onoue Printing Co. as they use an all new dot printing process [not like traditional CMYK overlaid prints] that produces a life like reproduction of the original print. There are no CMYK colour spots but a continuous layer of colour, just like a true Shin Kohanga print. The designs are prints at a new ultra fine 600 dots per inch and take a magnifying glass to view.
All this adds up to make the calendar simply the finest reproduction available.
---
The designs below have been thumb nailed to speed up the viewing process - please click the picture to enlarge.
As the prints below highlight, Hiroko Mishiro is a magnificent artist, well diversed in the operation of the RISO system and able to transform everyday settings into outstanding prints.