Place mouse over 'Training' menu above to display extra options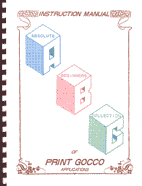 How to . . ABC PRINT GOCCO Manual by June Fox
The ABC PRINT GOCCO Manual covers many of the areas in which you will find yourself currently using PRINT GOCCO and many which you may not have know existed. This manual is ideal for all skill levels from Beginners to Advanced users of PRINT GOCCO, with a great diversity of uses and topics, PLUS a fantastic array of helpful hints that will save you both time & money . The ABC PRINT GOCCO Manual is written in an easy to follow manner in which you can expand your current techniques through topics such as -
ARTWORK PREPARATION - The what to do's & do nots in preparing your artwork with some easy explanation of what you can use and some Golden Rules to ensure you succeed.
UNDERSTANDING THE BASICS - Knowing the products which you use, how to store them correctly, flashing the screen, inking & cleaning the screen.
DECORATION - Simple techniques are explained which can turn a simple print into a professional print through the use of embossing & marbling.
Then with the basics covered you can expand into new techniques.
ALIGNING BUSINESS CARDS
REVERSE IMAGE PRINTING
COLOUR SEPARATION AND MORE . . . .
But as you learn more you will soon expand into further area's such as -
STAMP KIT FOR CLOTH - uses for the stamper plus the important procedure of lining up borders and repeat patterns.
STAMPING OTHER SURFACES - As you will learn the stamper is not simply for cloth but other surfaces such as wood!
Along with the uses already mentioned, you can't go past the section on SCREEN PRINTING for hints & important technique information. Topics include -
KNOW THE MESH & INKS
USING SCREENMASTER INK FOR PLASTIC & "OFF CONTACT" PRINTING
IMAGING SCREENMASTER
SCREEN PRINTING IN MULTI COLOUR
PUFF PRINTING AND MORE . . . .
And to prove that the PRINT GOCCO is more than a simple printer, June expands into the exciting topics of -
GLASS ETCHING
BACKGROUND PRINTING
POTTERY & CHINA PAINTING
DECAL MAKING
As you can see this is more than a beginners Manual and more than a list of applications. The Absolute Beginners Collection will help and enhance your use and understanding of the PRINT GOCCO system. So don't wait, use this manual to let your imagination & creation free.
---
Copyright ©2007 NEHOC Australia Pty Ltd. All rights reserved.
---