Place mouse over 'Training' menu above to display extra options
Related links

Screen printing technique

FAQ's

Fundraising with PRINT GOCCO

Download links

Fundraising spreadsheet

Product links

Fundraising package

Ink colours

Buy online @ NEHOCdirect

Page links
Fundraising with Screen Printing
A large range of fundraising applications are available, using even just the basic of equipment, to create interactive, fun and profitable results.
Screen printing allows dozens of different applications - t-shirts, tea towels and bags are the most popular as these items are practical and can actually be used after purchasing.
No screen printing experience is required to start. Established in 1969, NEHOC's many years of experience and high level of customer support ensures your fundraising activity runs smoothly and most importantly, profitably. Every package receives free instructional video demonstrations, ongoing lifetime support, fundraising cost calculators and of course fundraising ideas, instructions and guides to help you run your fundraising activity.
Base equipment required to start is contained in the Fundraising Package, to which you can add additional ink colours, larger frames/ squeegees, etc.
---
Cost, Price & Profit
Of course an important step not covered below, and the most important of the whole project, is calculating your costs and the return you should receive from the fundraising event - this is after all the whole point of the exercise.
There are two methods of obtaining you sale price and costs -
Costs are simple to calculate based on any equipment [remember for subsequent events you don't have the initial purchase cost], inks and t-shirt [or bags, tea towels, etc].
We can't tell you the price to charge of the profit to make, however our Fundraising Spread Sheet will certainly help you!

[If network password box appears when downloading simply cancel & continue to open]

2. Details of how to use the spreadsheet to calculate your costs and profit return are explained on the page. Simply alter the data to reflect your desired fundraising project by changing the number of designs you will use, amount of ink, item price and quantity values. Your profit return is then clearly calculated for you.
---
Example 1

Aim

Create colourful, attractive prints themed on the event or occasion, that involves active participation in the choosing of design & colours. To engage children [or adults] for a short period of time [can be 2-15 mins. depending on designs, colours and speed of printing, etc.], which once completed provides a printed garment, or item, reminding them of the event.

Equipment
The NEHOC Fundraising Package is a self continued printing system to create and print up to 10 x A5 [or 5 x A4 ] different designs.
Additional recommended items include 2 to 6 x 1 litre standard fabric inks colours of your choice, t-shirts, table, protective cover, aprons/work clothes, bucket of water plus chux cloths & a few empty ice cream buckets [always useful to have on hand] to wash screens or hands, masking tape and a pen for customers name on the print, a length of rope to create your drying line and some pegs.
Method

Step 1: Designs to be printed can be chosen by an individual or incorporated into a separate art activity for an entire group/ class/ school/ organisation to be involved with.
Example: Hold a small art class where everyone submits a piece based on a common theme, then have the group judge the best 2 or 3 pieces. Designs can be A5, A4 or a combination - as the Fundraising package comes complete for both sizes.
Step 2: Create the screens in advance - anyone can do this using the chemical free operation of the NEHOC system. All systems come with a FREE Training CD with video demonstrations, a colour Quick Use Operation Guide and Full Operation Manual.
The process is safe to use with children and ideal for incorporation into a class or group activity.
Watch the online video demonstration of how a screen is made, frames and printed - click here . .

You can also read/ print the Quick Use Guide - click here . .

Or view the full Operation Manual online - Open now . .

NB: The online manual can not be printed, the copy supplied with the machine is hi-resolution and fully printable.

Step 3: Prepare for the event by getting your equipment and area ready:

We recommend using bright colours, with 2 to 4 x 1 Litre, or 4 to 8 x 500ml, colours to choose from

Remember to target the sizes of your t-shirts to your audience - don't get Large size's for a young children's kids fete!

White t-shirts are best to use as they are cheaper, easier to print and colours show up best

On the day:

You will need a protective cover on your table, newspaper may blow away so a cheap disposable plastic cover is best attached with tape or pegs

Things can get hectic so Lay your table out in a simple manner - remove all items you don't need and lay them behind you, or under the table. Pictured left is a good layout with screens on the left, inks in front and t-shirts on the right.

Use a piece of rope to make a line to hang your printed items - this also attracts interest and helps people with colour choice

Remember to place a piece of tape on the item with the persons name so you know who's item is where!

Offer to keep the item on the line for the person [unless of course space is premium] until they are ready to go - 2 less thing to carry.

Keep a small tub of water handy to clean squeegee's and screens as required

Use an umbrella where possible to try & stay out of the sun, remember the inks & screens will dry with exposure - and it makes for a long day.

Pictures left an example from Artfest [a large biannual community & school art festival at Avalon on Sydney's northern beaches] Caroline & Claire Munro pictured.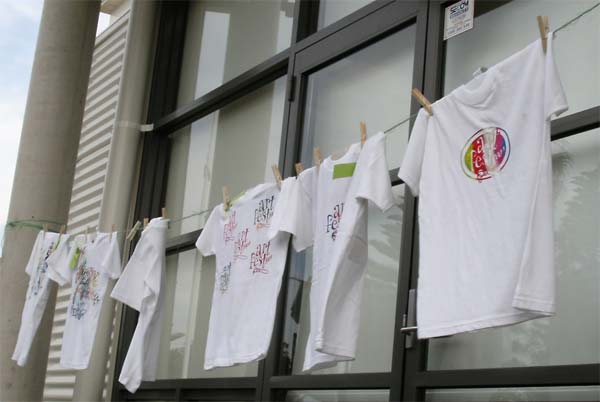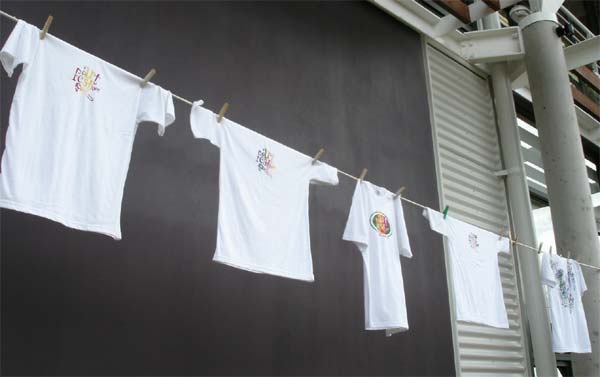 ---
Example 2

Take Home Sales Item or Required Equipment Purchase
Screen printing items for sale produces practical & useful items that return a greater long term profit though both the money generated and importantly the practical use of the item the person receives i.e. bags and uniforms - You can 'Kill 2 birds with 1 stone' as they saying goes.
Did you know you can charge an extra $2 for an item that lasts more than 5 minutes? Chocolates & confectionery are commonly reordered each year, however if your target customer still has pay for a t-shirt/ tea towel/ bag/ uniform/ etc. the felling can often leave us annoyed and upset we are constantly handing over $$.
Most common items created:

T-shirts - 'special event' day i.e. Fundraising Friday or Class/ Grade/ Team Graduation

Aprons - Protective equipment for activity i.e. Art Apron

Library Bag printed with the school or logo

Class/ grade/ club tea towels with logo/ children's faces/ drawings/ etc.

Club training or school sports uniforms

These items are normally printed by someone else [many of our large professional customers may be doing this for you now!] - however you are losing most of the available profit by paying someone to do something you can easily do in-house yourself - without any screen printing experience.
We are so confident you can do it yourself, that if you can not screen print using our equipment [after watching the training video or reading & following the instructions!], we will take the equipment back and refund your money.
The key is starting with the right equipment and using a good piece of artwork to create your screens. We give you only the essential equipment required to start printing with the imaging machine, mesh, frames, squeegee, inks, table adhesive [to hold the item still whilst printing], plus full Training Video on CD and manuals.
Aim

Provide a quality printed item that is useful/ required and themed on an event or occasion to raise funds.
Equipment
The NEHOC Fundraising Package is designed for t-shirts and most clothing items, however tea towels and larger items will require the addition of an A3 frame and 240mm Squeegee. You can also add ink colours to suite the design you will be printing.
Designs

The design/s you use will generally be logos or a themed design set for the item, i.e. club/ school logo, class drawing for end of year graduation, etc. As with an event/ fete, designs to be printed can be chosen by an individual or incorporated into a separate art activity for an entire group/ class/ school/ organisation to be involved with.
Printing
Printing is not the same as an open event or fete as you will print the same design continually, which enables you to set-up a smaller work area for a much faster printing time.
Layout of the area is similar, with unprinted items on the left, your print area in the middle with your print board, screen, ink & squeegee. On the right is where you place your printed items.
Depending on the item you print you can set this out differently. T-shirts are best hung to dry as this takes up less space, while tea towels and flat items can be placed on boards. How you dry your items depends on the available room. A print normally takes about 5 minutes to touch dry, so you can stack items.
Remember all printed items must be heat set once printed, details of this process can be found online - click here . .
---
Copyright ©2007 NEHOC Australia Pty Ltd. All rights reserved.
---
Manufacturer Notice:

None

Description:

Fundraising using Screen Printing - Open event & fete's, plus single 'take home' sales item example.

Search:

fundraising, screen, printing, fete, club, profit, project, school, t-shirts, bags, event, art

Last Updated

Friday, 25 May 2007