Place mouse over 'Training' menu above to display extra options
Creating CMYK Colour Separations with Adobe Photoshop©
Using a computer for CMYK artwork separations is an advanced topic, that is difficult to put onto paper, as computers vary as too the type and version of design program used. In this example Abobe Photoshop [version 5.0] is used, run on a PC [PIII 500Mhz processor, 256Mb RAM, 20Gb HD], especially when there are computer courses are available on these programs just so you can understand the basic features available!
Instructions and information can quickly become very complicated, so for this exercise we will apply KISS = Keep It Simple Stupid!
Let's get started!
Open the file/ picture [colour pictures only]

How: File > Open [Shortcut: Ctr+O]

Action: Picture will open in the screen
---
Task 1: Changing the Colour Scale
1/ Change the colours of the picture to CMYK. Normally a picture is set to RGB [Red, Blue, Green] when you scan or import the file.

How: Image > Mode > CMYK Colour [Shortcut: Alt+I > M > C]

Action: Picture looks the same, but the computer reads, and prints, the colours differently.

2/ Open the Channels Window so you can select each of the CMYK layers individually for printing

How: Window > Show Channels [Shortcut: Alt+W > H]

Action: A small window will appear on the screen showing the CMYK, Cyan, Magenta, Yellow & Black channels.
You have now changed your picture from RGB to CMYK colour settings ready for printing.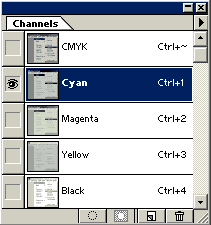 Selecting Channels
Channels are the different colour separations - also called layers.
In the Channel Window, click the mouse onto the Cyan channel – watch as the picture changes from colour to black & white.
The same change happens for the Magenta, Yellow & Black layers as well.
To print a colour [also called channel or layer], simply click on the channel colour with the mouse, then with the channel highlighted proceed to print as outlined below.
---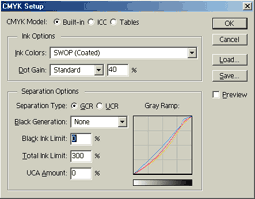 Advanced Colour Preferences - CMYK Setup
Please note this option is not available in all versions of Photoshop.

1/ Open the Colour Setting options box and select CMYK Setup

How: File > Colour Settings > CMYK Setup [Shortcut: Alt+F > T > C]

Action: CMYK Colour options box appears
As PRINT GOCCO Paper Ink does not have a Process Black you can change the Black Generation to NONE to produce CMY printing [similar to RISO Artwork Books].
---
Task

2a: Printing - Older models with basic options

It's important to understand all printers provide different printing options – the more advanced your printer the more options may be made available. If you have more memory and functions available you can modify more characteristics of the printing. Example - the 'Printer Colour Management' box at the bottom of the 'Print' box may be greyed out with older model printers.
1/ Open the Print options box [pictured right]

How: File > Print [Shortcut: Ctr+P]

Action: Print dialogue box will open on the screen

When the Print box is opened, basic printers will have options 'greyed out' and made unavailable. Basically your computer can't tell your printer how to use the functions and therefore doesn't make them available [they are set to default values that your printer can understand]. Options you should have available, regardless of printer model, include:

- Change the Print Range if required [normally you don't need to touch this]

- Change the Print Quality to the highest setting available [600dpi is the most you should need]

- Select number of Copies if required

2/ Click the Setup button on the right [under the OK and Cancel button]

How: Click Setup button with mouse [Shortcut: Alt+S]

Action: Page Setup dialogue box will open on the screen over Print box
With a basic printer the options at the bottom of the Page Setup box will be 'greyed out' and you don't have much ability to manipulate your picture – you'll just have to stick to Photoshop's default values for CMYK separations.
3/ Close the Printer Properties box and Page Setup boxes to return to Print box.

HOW: Press OK button if you have made changes [Cancel if no changes].
With all your options selected/ changes made you can proceed to Print by clicking OK.
---
Task

2b: Printing - New models with advanced options

With newer model laser [plus bubble/ ink jet] printers you have the ability to change more options and take advantage of other features, as your printer can handle many more commands from the computer program.
1/ With a channel selected [Cyan for example] open the Print options

How: File > Print [Shortcut: Ctr+P]

Action: Print dialogue box will open on the screen
NB: Printer Colour Management should only be used if you KNOW your printer's software drivers have CMYK support. If you are unsure simply let the program [Photoshop] do the work.
2/ Open the Page Setup box [pictured right] by clicking the Setup button from the Print box

HOW: Click Setup button [Shortcut: Alt+S]

Action: Page Setup box will appear
Now you can manually adjust some of the setting, as you can add registration and crop marks to your print or select from the other available buttons!
What the buttons do [remember you can press F1 for help]:
BACKGROUND: Select a colour to be printed as a background outside the picture area.
BORDER: Lets you print a black border around the picture.
BLEED: Lets you print crop marks inside rather than outside the image.
CALIBRATION BARS: Prints an 11-step grayscale, a transition in density from 0 to 100% in 10% increments. With a CMYK color separation, a gradient tint bar is printed on the left of each CMY plate, a progressive color bar on the right.
CROP MARKS: Where the page is to be trimmed. You can print crop marks at the corners, at the centre of each edge, or both
LABELS: Prints the file name and channel name on the image.
TRANSFER: Lets you adjust the transfer functions, traditionally used to compensate for dot gain or dot loss that may occur when an image is transferred to film. Generally, it's best to adjust for dot gain using the settings in the CMYK Setup dialog box.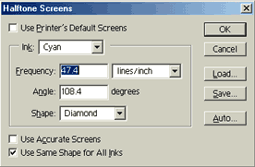 SCREENS [pictured left]: This is the option you will commonly use with CMYK printing, as this options enables you to change the frequency, angle and shape of the dots that the computer generates to make up the separations.
NB: The preferred Shape configuration for process printing is Round
With all your options selected/ changes made you can proceed to print by clicking OK.
---
Summary
If you are after a magic formula that gives a perfect result every time - we don't think one exists! All pictures vary [colours/ density/ size/ etc.] so changing the settings, testing and playing with these features is quite fun and quickly gives you a few different results.
Can you expand on the information above, explain a point more directly or think we have missed something - we would be pleased to hear from you E-mail us now
---
Copyright ©2007 NEHOC Australia Pty Ltd. All rights reserved.
---