Place mouse over 'Training' menu above to display extra options
Create and Print a Pot Holder
The following project combines PRINT GOCCO with the versatile and simple to use Stamp Kit for Cloth or RISO screen printing system.

Here's a simple to follow guide that will transform any crafty person into a craft maker - You can easily substitute the colours and designs to suit your personalised needs.
Equipment You can use either stamp printing or screen printing techniques to place your designs onto the fabric. PRINT GOCCO or RISO ScreenFax to image Screens If Stamp Printing Stamp Kit for Cloth or Hand Stamper Stamp Inks for Cloth B6 Print Master [1 for each design] Print Lamps [2 for each design] If Screen Printing - RISO ScreenMaster, Frame Mount, Squeegee and Ink RISO ScreenMaster 70 Mesh Frame Mount [sized to suit design] Squeegee Fabric Screen Printing Ink [colour as desired] Print Lamps [2 for each design]
---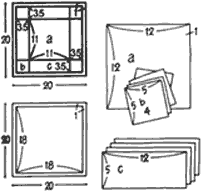 Materials
Red cotton material 10cm x 10cm
Quilted cotton 20cm x 20cm
100cm of 2cm wide damask tape for edges
---
Method
Step 1

Prepare the patchwork cloth and print your design onto the white cotton.

Step 2

Patchwork and create the front.

Step 3

As shown in the diagram, left, tack the three layers together.

Step 4

Line the edges with damask tape to seal the border.
---
Copyright ©2007 NEHOC Australia Pty Ltd. All rights reserved.
---