BoxStar Box Maker
Product Code: N-BS1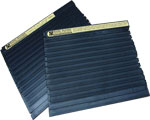 Presenting the BoxStar, every crafter's favourite tool for box crafting!
Fast and simple to use, with a unique top and bottom side for perfect fitting boxes of all sizes.
Clip multiple units together to create larger sizes.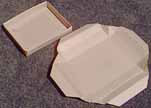 Recycle any box into a useful and fun gift box or storage cube for a child's room!
Dress up your holidays with Box crafts!
Model enthusiasts use the BoxStar to create tiny villages!
Box crafting is definitely one of the most versatile crafts around!
Product Home
Specifications
Accessories
Support
Key Features
Join two or more BoxStar Folders together to create extra large boxes
Clearly marked - top and bottom sides
Create sleeves & trays
Telescoping boxes in three formats
Triangular boxes
Nesting boxes
Book Shippers, Clam Shell (Cake) boxes
Usage
Step 1 - Score

Put one Box Blank (or your selected material) against the guide rail on the Scoring Base side marked "TOP". You will want to score your Box Blank on the side that is to become the inside of your box, so what will be the outside surface of your box should be face down. Score each edge of the Box Blank (a total of four scores, one score parallel to each edge) using the enclosed Scoring Tool. Be sure to use the scoring slot that is equal to the depth of the box you want to make. For example, using the 2 1/2" slot will give you a box that is 2 1/2" deep.

Step 2 - Cut

Cut notches in the four square corners as shown.

These notches make a flap in each corner of the box.

Step 3 - Fold

Fold your Box Blank along all four score lines with the corner flaps INSIDE at each corner.

Step 4 - Glue

Glue each corner flap to the inside of the adjacent side. A hot melt glue gun works best. If some flaps overlap, simply trim them. Your box top is complete!
For Bottom - Repeat steps 3 and 4 above using the scoring side marked 'Bottom'.
Note: Box Blanks can be cut down to a smaller size or cut into any straight sided shape you wish (triangle, rectangle, pentagon, etc.) -- if all edges can be placed against the guide rail, the BoxStar system will work!
Cleaning
Clean with soft cloth only.
Contents
Each.
Specifications
Item Weight: 340g
Length: 230mm
Width: 290mm
Height: 10mm
Cbm: 0.167Kg
Price and Availability
View prices online in NEHOCdirect - click here . .
No accessories available.
Ask a Question
Complete the Product Assistance Form for a quick reply to any question not answered in the FAQ's or training section - click here . .
How to make Boxes - Online Manual
This 48 page, 8-1/2 x 11" book is intended to be a general reference and how-to handbook for individuals, libraries, museums, and small businesses who have a need to construct boxes of very specific sizes and strengths for storage, shipping, gifts,and other such purposes. Minimal background skills, equipment, effort, and expense are required. The front cover is shown at the right.
The book opens flat for easy reference at any workspace.
The focus is on (a) box designs, (b) basic materials (commercial or recycled cardstock, corrugated cardboard, paper, and fabric), (c) tools and (d) construction techniques.

References are provided in the Bibliography for readers who want to enhance the aesthetic appearance of their boxes.
View details online now - click here . .

Page Information:
< Previous: Product Homepage
> Next: Product Homepage
Products: N-BS1 BoxStar Box Maker
Last modified: 24 May, 2013