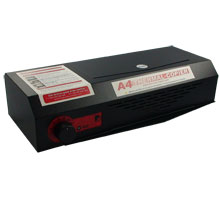 Product Code: TCA4
Previous models have been called Thermo copiers, Thermo Fax, Therma Fax, Fordifax, GBC Fordi Fax and the VistaFax model.
Developed from the current A3 model's components and imaging technology, the A4 model is a lighter, more compact system designed for heavy duty school use. German engineered and built, the A4 machine is strong using a one piece metal housing, yet remains lightweight at only 5.8Kg for easy storage.
The electronic speed controlled operation uses a direct drive motor to eliminate all the gears, wheels, cogs, drive cones, belts and components that required replacement in previous Thermal-Copier models [i.e. VistaFax & 3M].
This model provides ongoing consistent results with a lower operating cost due to the lower voltage lamp.
Important note on artwork
A Thermal-Copier requires carbon based artwork - Laser print or photocopy - to image the RISO ScreenMaster Mesh. It is critically important you ensure your laser printer or photocopier contains carbon prior to purchasing, as many new model laser printers and digital photocopiers use graphite powder and not carbon toners.

If you purchase a Thermal-Copier without testing your artwork, you may be required to purchase additional equipment to receive a carbon based original. NEHOC offer a free artwork testing service, where your artwork is tested and screens imaged prior to purchase. Simply contact us for use of this free service.
Printing Specifications
Full printing specifications, including applications, ink types, colours and screen volumes, see individual Package pages.
Product Home
Specifications
Accessories
Support

Page Information:
< Previous: Thermal-Copier homepage
> Next: A3 Thermal-Copier
Products: TCA4, TCA4-SP, TCA4-TMA4 Thermal-Copier
Last modified: 5th June 2023 5 June, 2023