Correction Fluid
Product Code: S-767
A must have items to keep on hand when ever performing your test prints, as a simple pinhole, spot or problem is easily overcome by applying Correction Fluid to the back of the screen.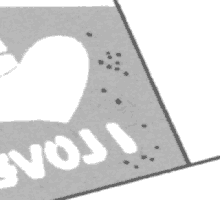 Pinholes, pictured left, can be caused by microscopic pieces of carbon in the artwork, dust and many other factors picked up by the system when imaging.
Pinholes can range from a tiny speck to a 3mm wide dot - generally picked up on your first test print. Pinholes are easily removed from your screen before printing using Correction Fluid.
Correction Fluid can be used at any stage - before test printing, during the test print or at any time during your print job.
Correction Fluid reseals the mesh and is used on small areas using the brush tip of the applicator. For larger marks and solid areas outside the designs area use Screen Masking Tape.
Product Home
Specifications
Accessories
Support

Page Information:
Level: Beginner to Advanced
< Previous: N-190 Frame Mounting Tape
> Next: S-9112 Plastic Height Adjusters
Products: S-767 Correction Fluid
Manufacture notice: S-767
Last modified: 28 October, 2009