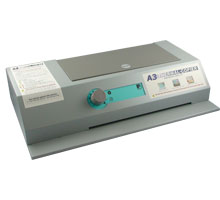 Product Code: TCA3-SP
The A3 Thermal Screen Maker replaces the VistaFax 1UF model, along with previous Thermal Copier models also included 2UF, 3M Secretary & Fordigraph FordiFax models. Previous models have been called Thermo copiers, Thermo Fax, Therma Fax, Fordifax, GBC Fordi Fax and the VistaFax model.
This new electronic model uses a fixed IR heat lamp and uses no consumable supplies to make screens, other than the mesh itself - providing the lowest ongoing operating costs available.
This system is ideal where higher volumes of screens are required, in schools and professional applications, as the low cost of operation provides long term financial rewards with the low operational cost, along with a faster screen production time than the print lamp systems.
An all new 300mm imaging width enables true A3 image size, with a suitable A3 Thermal Carrier available.
Several major enhancements and modifications have been made to improve the system in terms of use, reliability and repair if required. An all new new design has removed the complex moving wheels/ cogs and gears of the previous models, with a new electronic direct drive system used to turn the rollers.
Overheating and carrier jams have been solved through the use of several internal sensors, which have a 2 stage operation by limiting the number of screens that may be imaged when the machine becomes hot after use and then stops the lamp when overheating has occurred – completely eliminating damage to the lamp, glass roller & internal components.
Important note on artwork
A Thermal-Copier requires carbon based artwork - Laser print or photocopy - to image the RISO ScreenMaster Mesh. It is critically important you ensure your laser printer or photocopier contains carbon prior to purchasing, as many new model laser printers and digital photocopiers use graphite powder and not carbon toners.

If you purchase a Thermal-Copier without testing your artwork, you may be required to purchase additional equipment to receive a carbon based original. NEHOC offer a free artwork testing service, where your artwork is tested and screens imaged prior to purchase. Simply contact us for use of this free service.

Printing Specifications
Full printing specifications, including applications, ink types, colours and screen volumes, see individual Package pages.
Product Home
Specifications
Accessories
Support

Page Information:
< Previous: A4 Thermal-Copier
> Next:
Products: TCA3, TCA3-SP, TCA3-TM A3 Thermal-Copier
Last modified: 10 September, 2011