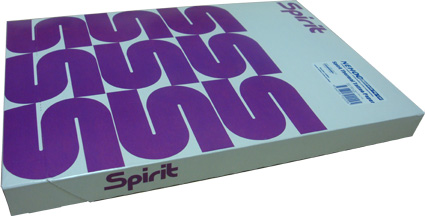 Spirit Stencil Paper - Genuine USA Brand
Product Code: TTP-Spirit and TTP-Spirit-CTN
Atsui is a Chinese manufactured product for small and short run applications. When used with Stencil Stuff, Tattoo Goo and other stencil preparation items the adhesion is greatly improved and it's recommneded a stencil preparation fluid be used at all time for best results.
Each Genuine Atsui sheet contains 4 layers:
1 - Cover sheet to which the design is applied
2 - Brown protective sheet - removed prior to use
3 - Carbon sheet
4 - Yellow backing paper
Spirit paper is suitable for use in all Thermal-Copier models - new and old!

Available Products
Spirit Tattoo Stencil Paper - Genuine USA manufacture




Pack 100 A4 Sheets

Carton Pack - 10 packs




Trade quantity 1,000 sheets per carton
Recommended Accessories
Product Home
Specifications
Accessories
Support

Page Information:
< Previous: Tattoo Homepage
> Next: A4 Thermal-Copier
Products: TTP-Atsui A4 Tattoo Stencil Paper Box 100 Sheets and TTP-C Tattoo Paper Carton 20 boxes
Last modified: 4 September, 2012