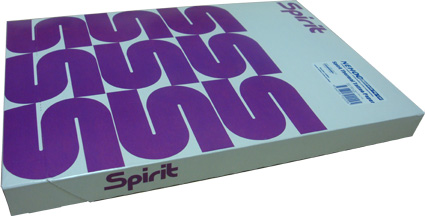 Spirit Tattoo Stencil Paper
Product Code: TTP-Spirit and TTP-Spirit-CTN
Spirit paper is the genuine Tattoo Spirit Stencil Paper for use by professionals with long lasting results.
Spirit stencil sheets contains 4 layers:
1 - Cover sheet to which the design is applied
2 - Brown protective sheet - removed prior to use (copy spirit uses white paper)
3 - Carbon sheet
4 - Yellow backing paper

Warning - Beware Imitation Spirit Paper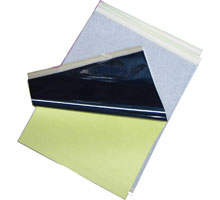 A copy of genuine USA manufactured Spirit Stencil Paper is available on the market and does NOT perform the same as genuine USA Spirit Paper. It fades, doesn't last as long during tattooing and can not be used on 3M ThermlFax machines.
Both original and copy packs are printed the same and both list USA manufacture so looking at the carton is not the best way to check. Request to view a sample sheet from inside the pack first.
How to tell genuine USA and Chinese copy:
- Copy heading is white/ clear
- Genuine Spirit has a green strip in the heading (pictured left)
- Copy Spirit paper can be supplied in a plastic wrap inside the carton
- Genuine Spirit is loose packed
- Genuine spirit has a BROWN protective sheet
- Copy Spirit has a WHITE protective sheet
Available Products
Spirit Stencil Paper - Genuine USA Stocks




Pack 100 A4 Sheets

Carton Pack - 10 packs




Trade quantity of 10 packs - 1,000 sheets per carton
Recommended Accessories
Product Home
Specifications
Accessories
Support

Page Information:
< Previous: Tattoo Homepage
> Next: A4 Thermal-Copier
Products: TTP A4 Tattoo Stencil Paper Box 100 Sheets and TTP-C Tattoo Paper Carton 20 boxes
Last modified: 4 September, 2012