Multi-colour Starter Package
Product Code: SP-S4 (New 2010 package Contents)
This package is the entry point to multiple colour printing with the addition of a 4 arm wooden screen printing jig, that enables colour registration of up to 4 different screens, or printing of single colour designs.
Printing multiple colours without a jig is possible with registration by eye, however the process is very time consuming and results in too many misprints due to poor registration - wasting materials.
'Off contact' printing is also enabled using a jig for printing opaque fabric inks onto dark coloured garments.
This is a complete package for both A4 and A3 sizes with imaging system, mesh, frame, squeegee, inks and instructions to get you printing in minutes. Plus our all new Printing Lessons for both Standard and Opaque Inks are included to ensure anyone can start printing like a professional.
Package Details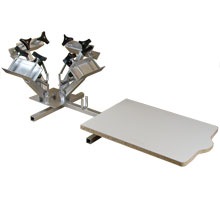 Full package contents listed under specifications.
Upgrade Options Available
Upgrade the Wooden T-shirt Jig supplied in the standard package to either a Metal Jig, or a Metal Jig with Bearing Hub and Guides.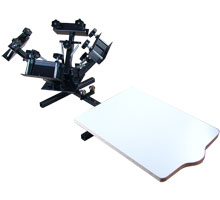 With a removable printing board, a metal jig enables removal of the supplied t-shirt board and fitting of a custom sized board for smaller or larger items i.e. babies clothes or large dress material.
The Metal construction is recommended for humid or wet/damp climates, as the metal construction will not swell, becoming tight under high humidity or wet conditions.
See NEHOCdirect for details of the SP-S4-M4 and SP-S4-M4B upgrade packages.
Product Home
Specifications
Accessories
Support

Page Information:
Level: Beginner to Intermediate
< Previous: SP-S3 Single Colour Starter Package
> Next: Home Business Package Homepage
Products: SP-S4 Multi-colour Starter Package
Manufacture notice: PG-5 machine, S-105
Last modified: 1 March, 2010